Good Morning,
I am keeping this daily update shorter than usual.
Last week, Apple published a post on its newsroom, "Apple services enrich peoples' lives throughout the year," detailing how its services such as Apple TV+, Apple Arcade, Apple Music, Apple Fitness+, and others have provided transformative experiences during the yesteryear. One particular service that piqued my interest is the Apple TV+ because of how the company approaches this service. Apple has taken a unique path for its Apple TV+ service ever since its launch on November 1, 2019, considering how competitive online content streaming has gotten.
Here's what Apple had to say of its Apple TV+ service in the post:
In just two years, Apple TV+ has made streaming history by achieving major milestones in a short span of time. Apple TV+ has been honoured with 763 award nominations and 190 wins, including Academy Award and BAFTA Award nominations, 12 Primetime Emmy Award wins across major program categories....
New Apple Original series and films captivated audiences around the world with culture-moving programs such as "Ted Lasso," which continues to break records and recently became the most nominated freshman comedy in Emmy Award history....
All Apple Original series and films are available on the Apple TV app, accessible from over a billion devices, including popular smart TVs from LG, Panasonic, Samsung, Sony, TCL, VIZIO, and others; Amazon Fire TV and Roku devices; and PlayStation and Xbox gaming consoles. The Apple TV app launched on Android TV, Chromecast with Google TV, Sky Q set-top boxes, and Sky Glass TVs last year, and will soon launch on Comcast Xfinity set-top boxes. The Apple TV app also offers viewers a personalised guide to their favourite TV show, sports, and films across other popular streaming services, channels, and pay TV providers. New features, including For All of You, SharePlay, and the Store tab, now make it easier to find personalised recommendations, watch with friends and family, and buy, rent, or stream favourites all in one place.
And here's what the Economist had to say of the service, just a couple of days earlier to Apple's post:
As violins play mournfully, Jon Stewart, an American comic, makes a mock-emotional appeal to viewers. "Every year thousands of hours of high-quality content go unwatched," he says seriously. "Because good, hard-working people… don't know how to find Apple tv+."
The world's most valuable company can afford a few jokes at its own expense. In the past year the tech colossus has raked in $366bn in revenue, a third more than in 2020. On January 3rd its market capitalisation briefly exceeded $3trn.The mere billions that it is investing in media, including a new television show hosted by Mr Stewart, represent pocket change to the Silicon Valley giant.
Old-media firms have been puzzled by Apple's on-off sorties into their territory, which sometimes seem half-hearted. Winning at streaming depends mainly on splurging on content. But deep-pocketed Apple spent just over $2bn on film and tv in 2021, against Amazon's $9bn and Netflix's $14bn, estimates Ampere Analysis, a research company. It doesn't bother to market its efforts much. And although medialand has cooed at the executives that Apple has poached, such as Jamie Erlicht and Zack Van Amburg from Sony and Richard Plepler from hbo, Silicon Valley insiders say that Apple keeps its own top tech people on other projects.
Apple, in its post, seems very much confident of its approach for TV+. However, note that the scale of its investment compared to the other players such as Netflix and Amazon. Yes, the company's approach is to create original content (movies and TV shows) rather than have a more extensive catalog of acquired content; however, its spending is small compared to others.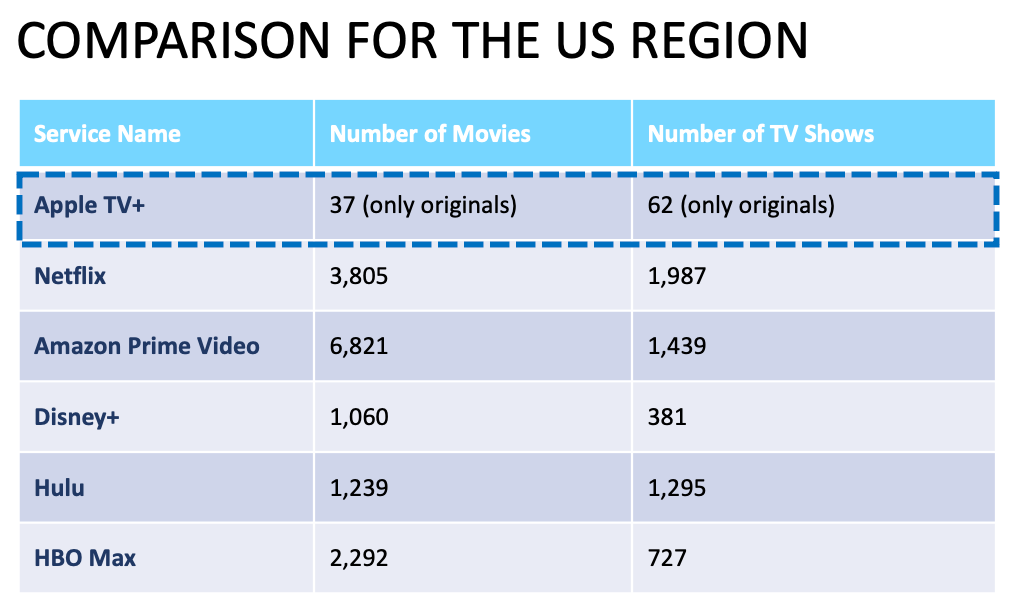 Apple TV+ and Amazon Prime Video also allow access to different channels with content from the likes of Lionsgate Play, Tastemade, and others.
What raises questions is the smaller catalog of content and the company's minuscule spending on films and TV shows in 2021 (0.54% of its total revenue) in comparison to the other players in the space. In addition, the company is making the service available on a growing number of platforms and devices, essentially making user lock-in less significant. Also, if the company is to catch up with Netflix or Amazon, it can take the acquisition route (both the content and content providers); however, it possibly fears regulatory backlash. So what is at play here, considering Apple's approach to advancing its streaming service further?
Considering its cash on hand, Apple can afford to play the long game of creating a more extensive catalog of original content, eventually placing it in a unique position. Note that Apple TV+ has had quite a few successes, which would perhaps keep a few subscribers locked in. In addition, Apple can afford to release the TV+ service on different platforms, unlike its iMessage service, which is kept exclusive to Apple users. It would allow providing new experiences and content to potential buyers of its hardware products. And when these potential buyers do buy Apple's hardware products, they would be able to carry these experiences, along with their customizations and data, to the Apple platforms. Considering the current smaller content catalog, this aspect could seem insignificant; however, the impact could be substantial in eventuality. This approach is similar to the company's approach to making Apple Music available on other platforms. The company cannot afford to allow users' (current and potential) time and experiences to be moved onto other services completely, making it easy for the users to jump between platforms making use of these other services (e.g., users significantly using Netflix and Prime Video, would not worry about whether they consume the content on iOS or Android devices).
Lastly, the long game with an ever-growing yet smaller catalog could work to Apple's advantage, as a smaller catalog with well-planned release cycles could keep users hooked to its service. Add to this; great content is not lost on the users, unlike Netflix or Prime Video, wherein truly thousands of hours of high-quality content goes unwatched.