Post Jack Dorsey's exit Twitter has seen quite a few changes, including reorganization of the company. This reorg isn't the first reorganization for Twitter - the social media company went through a reorg in 2018. Back then, Jack Dorsey initiated it. However, in 2021, right after his exit, the new CEO, Parag Agrawal, has reorganized the company again. This time, the company has been organized based on a divisional structure, unlike the earlier one based on functional groups.
Here's what Jack Dorsey had to say in a series of tweets about the 2018 reorg.
From Twitter:
We're reorganizing how Twitter is going to work together for the next decade. Sent this note to our team, and sharing with the world, because we want to be more open about how we think and work. This is a small but important step. Experimenting! Let us know what you think. pic.twitter.com/ygaIj9yjQi

— jack⚡️ (@jack) June 28, 2018
June 28, 2018
Contrast this with Parag Agrawal's reorg in 2021.
From The Washington Post:
Twitter's new chief executive, Parag Agrawal, announced a major reorganization of the company Friday, putting his stamp on the organization following the sudden departure of co-founder and CEO Jack Dorsey earlier this week.
The shake-up, meant to streamline the company's operations and accelerate its growth, will bring together employees previously divided by job function — such as engineering, design and product development — on teams organized by what they're working on, such as consumer product, revenue and core tech. Two executives, head of engineering Michael Montano and chief design officer Dantley Davis, will step down as part of the reshuffling and leave the company by year's end.
In a companywide email obtained by The Washington Post, Agrawal said that he will focus on "clear decision-making, increased accountability, and faster execution," and said he was "making a number of organizational and leadership changes to best position us to achieve our goals. … We've all discussed the critical need for more operational rigor and it must start from the top."
Jack Dorsey and Functional Organization Structure
One can see that Jack Dorsey emphasized the words - "simplifying the way we work" and making the organization "more straightforward." In addition, he emphasized creativity, invention, entrepreneurial drive, and fostering a strong culture. This emphasis aligns well with a founder's mindset who wants to see agility and a strong people culture to collaborate, innovate, and be creative. Besides the CEO, the functional structure does not have any customary GMs (general managers) who control the whole business unit and are judged based on P&L statements. GMs wouldn't be product domain experts to help innovate and collaborate on the product development with immersion for details. This aspect can be a limiting factor for a company that aims to thrive on innovation in a rapidly changing environment.
Functional expertise is central to such a structure. Here experts with the most experience and knowledge are responsible for making decisions and running their respective functional units. As head of the Technology functional unit, Parag Agrawal was part of such a structure. The other functional units in Jack Dorsey's structure were engineering, product, revenue product, design and research, customers, finance, assists, people, and marketing. These functional units are shielded from financial pressures (short-term profits and cost targets) and were pushed to rely on their experience and deep knowledge for disruptions. Jack Dorsey perhaps believed that a functional structure would benefit his company in the rapidly evolving social media landscape. There was a need to innovate and introduce new products to battle such a landscape.
For a functional structure to succeed, a few imperatives are a must; more profound expertise to head a function, intent to understand every detail, be it a service, product, or a function; and lastly, the readiness to collaborate. One needs to realize that when it comes to having a broad set of innovative and disruptive products, a functional structure can be beneficial if implemented rightly with the mentioned imperatives in place. Additionally, the functional units act as an umbrella to all the products. Product innovation gets the required set of minds from collaboration and benefits from teams' specializations. Note that product innovation and development are at the forefront here, not the financial aspects of the business. Understandably, a functional org structure needs effective coordination, which is made possible by collaborations.
One company that has benefitted from such an organizational structure is Apple. Ever since Steve Jobs came back to the company, it has been using this structure to introduce new and innovative products (these products can be iterative or completely new, creating a whole new product category). In recent times, Apple has evolved this org structure to include more functions aligning with the introduction and advancements of artificial intelligence and machine learning, and semiconductor segments.

Parag Agrawal and Divisional Organizational Structure
In contrast to Jack Dorsey, Parag Agrawal emphasizes clear decision-making, increased accountability, operational efficiency for faster executions, and better results. He believes that the earlier structure slowed down the company and thus has created divisions such as Core Tech, Consumer, and Revenue. GMs would be running these divisions.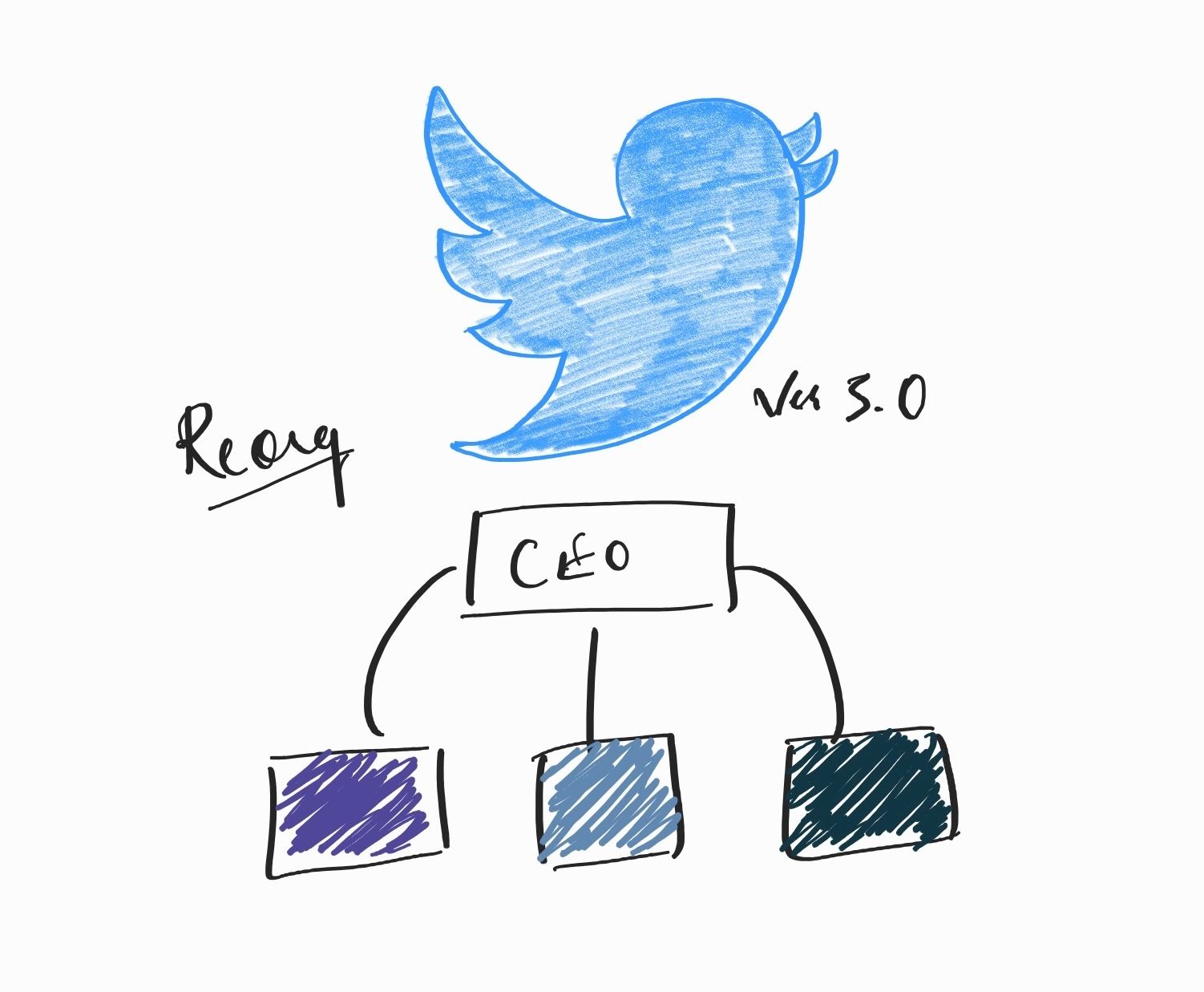 These changes are reflections of the pressure (from its investors) that is mounting on the company concerning increasing the monetizable active daily users (mADUs) and speeding up the revenue growth. Parag Agrawal is starting his tenure as the CEO with a responsibility to address these pressures.
The company has floundered in introducing new features or products. It has been reacting to its competitors by mimicking the products or features, only to pull the plug on them later on.
It hasn't been able to introduce new products that are outrightly innovative. Add to this, the people culture in the company has always been an aspect that had to be improved. Dantley Davis was brought in to address this issue. However, things only went downhill post his joining the company. The cultural changes enforced by Dantley made the already less collaborative environment worse. And functional org structures do not work well in an environment that is not conducive for collaborations. Thus the reorganization of the company was inevitable, including the exits of Michael Montano and Dantley Davis.
What may work well for Parag Agrawal is that the new divisions are run by GMs who have the expertise and also the management skills to take their divisions ahead. It needs to be seen how the reorganization translates to producing the required results - the results that are demanded by its investors.
---