Transportation of people, goods, and tools is an automobile's basic or primary function. However, this premise was not sustainable or rather good enough for marketing automobiles to its customers - it had to be extended. During the last century, automobile manufacturers or OEMs (original equipment manufacturers) captured the imagination of their customers by tapping into their emotions and aspirations - based on owning vehicles that were fast, well designed, and perhaps status symbols. Some of these vehicles remain as aspirational as they were earlier to this day, only to create a legacy of their own and become costlier with time. Consider a Ford Mustang 1967, for example. This fundamental ground on which the manufacturers thrived, wherein cars became a tad faster with more horsepower added to them, had external design changes, or became luxurious with different interior options, was not disruptive. For almost a century, the automobile sector remained impervious to disruptions. This primer is being questioned by companies such as Tesla and Google, with the advent of electric vehicles and technologies such as artificial intelligence, the internet of things, cloud, edge computing, etc.
Software-defined Vehicles
Software-defined vehicles have come to the fore providing OEMs or automobile manufacturers the opportunity to tap into customers' emotions and aspirations based on new factors such as connectivity, vehicle intelligence, personalisation, etc. A smartphone such as an iPhone, which essentially is a software-defined product, is a perfect analogy for vehicles going forward. These vehicles, similar to a smartphone, would receive over-the-air (OTA updates), introducing new features such as better battery management, safety management, autonomous driving, and others - done rightly, a software-defined vehicle would help automakers build brand loyalty unlike anything seen earlier. This would also drive the valuation of these automakers to unprecedented levels, seen in the case of Tesla.
Tesla and its Software-first Approach
Tesla has been able to develop software-centered innovations through efforts such as designing its car with software at the center similar to a smartphone, delivering a superior product that stays updated and relevant for a longer time, adopting internal process and cost optimizations, defining its technology stack to integrate hardware and software rightly to accommodate new technologies and services, and adopting a software-centered operating model.
It reduces product development complexities, effectively routing its spending using data, gathering in-depth customer insights, delivering effective and quality OTAs that positively depart from the previous software versions to drive process and cost optimization. It also uses data to drive hardware and software development decisions and adopts a platform approach for its products.
Tesla uses a mechanism called shadow mode to leverage data and drive automation. Shadow mode involves installing every car with autonomous driving (AD) technology that runs in the background and continuously helps compare drivers' behavior with its system. This approach allows the company to detect all the possible edge cases and drive ahead AD capabilities.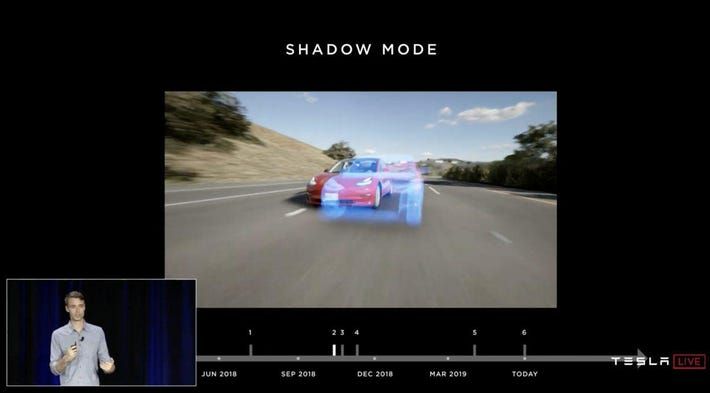 Apple and its Autonomous Driving Vehicles Project
Apple first dropped a hint of its ambition to enter the automotive industry in 2014. It perhaps planned this by developing electric vehicles (EVs) integrated with its AI solution (Siri) and products ecosystem. However, it has been seven years since then, and its ambitions have pivoted to developing a fully autonomous vehicle due to leadership and product strategy changes during the course. Expect this vehicle to be released sometime during the second half of this decade.
From TechCrunch:
"The autonomy itself is a core technology, in my view," Cook told Kara Swisher in an interview on the "Sway" podcast. "If you sort of step back, the car, in a lot of ways, is a robot. An autonomous car is a robot. And so there's lots of things you can do with autonomy. And we'll see what Apple does."
Cook was careful not to reveal too much, declining to answer Swisher's question outright if Apple is planning to produce a car itself or the tech within the car. What clues he did drop, suggests Project Titan is working on something in the middle.
"We love to integrate hardware, software and services, and find the intersection points of those because we think that's where the magic occurs," said Cook. "And we love to own the primary technology that's around that."
From Bloomberg:
Apple Inc. is pushing to accelerate development of its electric car and is refocusing the project around full self-driving capabilities, according to people familiar with the matter, aiming to solve a technical challenge that has bedeviled the auto industry.
For the past several years, Apple's car team had explored two simultaneous paths: creating a model with limited self-driving capabilities focused on steering and acceleration -- similar to many current cars -- or a version with full self-driving ability that doesn't require human intervention.
Under the effort's new leader -- Apple Watch software executive Kevin Lynch -- engineers are now concentrating on the second option. Lynch is pushing for a car with a full self-driving system in the first version, said the people, who asked not to be identified because the deliberations are private.
Having seen multiple leadership changes and product strategy changes, Apple is adopting a more accelerated approach to developing a fully autonomous driving vehicle.
Apple has a well-developed ecosystem of products that already work well in sync. In addition, the company is possibly releasing augmented and virtual reality-based products in 2022. The addition of AD vehicles to its portfolio will be an extension to utilize these products' capabilities. With its focus on integrating software, hardware, and services, the company has the correct elements to enter the automobile industry.
Apple's product strategy is to create aspirational products that lock in customers to its ecosystem of products and services. The company also picks to create products that play a significant role through a customers' journey running through a typical day. An autonomous driving vehicle that essentially relieves its customers of the driving process and helps them use the time saved to access a lifestyle of products that it has already created aligns rightly with its product strategy.
The company's customer-centric approach, combined with its capabilities to design and develop high-quality software and hardware and integrate the two with services to extend a product's life, gives a critical advantage. The company already has the above mentioned-capabilities in place (like Tesla) to develop a software-defined autonomous driving vehicle. The company's functional organization structure (see Twitter 3.0) also supports the operating model required to run AD vehicles in sync with its other products.
The company has a history of transforming a bland product into a disruptive industry product through customer-centric product design and allowing a bundle of services to be accessed on it. The iPhone, iPad, and Apple Watch are examples of this. The company stands to do the same for the automobile industry. It does not have an obligation to release an autonomous driving product anytime sooner, as the company stands to benefit from its other history of learning from other players already present in the market. The company essentially allows other companies to create the market and the customer pain points indirectly. This approach enables Apple to take the market by surprise by releasing its products that address the customer pain points and provide additional services that perhaps were not thought of earlier by the other companies.
The company has to develop an AD product that keeps getting better with each update and stays relevant for a longer time, essentially giving the company its next big win.
---